⏰ 18 minutes ago
Alban Martín

React
Apple already launched the SwingVision app in 2017, especially in 2021, the year the service exploded. Created by tennis fan Swupnil Sahai, the app tracks player performance using an Apple Watch and an AI-based algorithm. Well, a few days before WWDC 22, Apple is talking about it again.
The story of SwingVision
Here is the background to the idea of ​​SwingVision:
If Swupnil Sahai has never stepped on Roland-Garros clay or Wimbledon turf, he owes his life to tennis, a passion that dates back to his childhood.

Growing up in the Bay Area, the CEO and co-founder of the SwingVision Tennis Performance Tracking app, available only on the App Store, spent much of his time on the court. An early interest in his father led Sahai to play on the high school tennis team, and the sport served to relieve stress while attending the University of California, Berkeley.

While working as an engineer on a team that used 3D object tracking to aid in perfect autonomous driving, Sahai – a two-time WWDC scholar – had a revelation: the same techniques and principles he used at work. they could help you improve on the tennis court. . However, the tools available on the market for tracking and analyzing the game itself were expensive, cumbersome, and often difficult to find.
In fact, until now, only a few companies make sensors to fixate on the rackets and that allowed to follow certain data, a bit like Footbar for football. According to Sahai, some devices with cameras cost about $ 10,000 per court. Therefore, the turning point came when the Apple Watch was launched in April 2015. Sahai recognized the potential of a device that would bring intelligence directly to the user's wrist.
My brain immediately woke up. I said to myself, "If I had a computer on my wrist, I could analyze my shape and my shots.
After learning to code with Apple's Swift programming language, Sahai hired the services of his college roommate and tennis enthusiast Richard Hsu. What started as a side project called Swing, launched as an Apple Watch app in 2016, eventually became a full-time business, requiring a team that has since grown to 12 employees.
Sahai and Hsu officially launched SwingVision in the App Store in November 2019, harnessing the power of Apple's neural engine on the iPhone, iPad and Apple Watch, combined with the mind of advisors and .. Investors such as Andy Roddick and James Blake.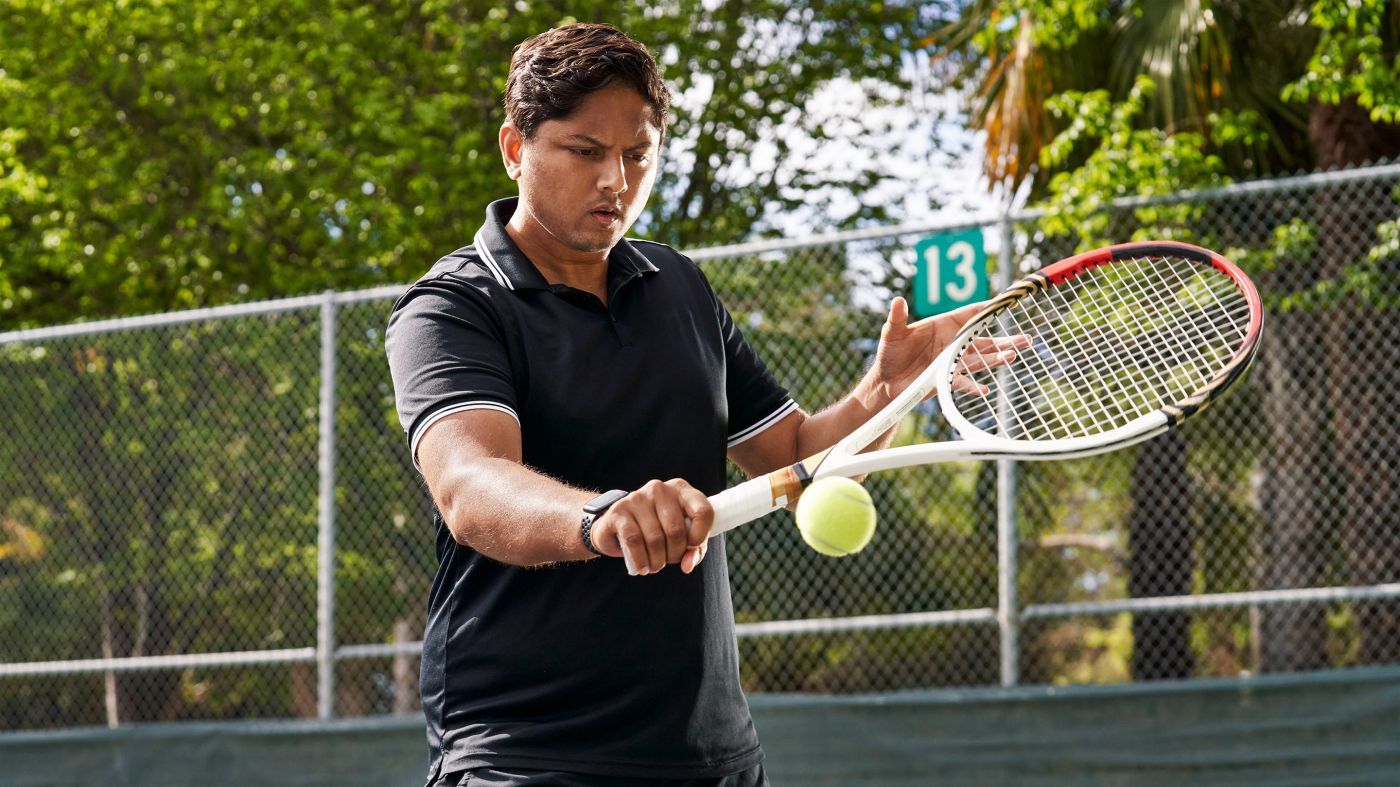 Swupnil Sahai – © Apple
SwingVision features
The app has recently launched a new feature that allows tennis fans to play a ball "outside" directly from their wrist using the Apple Watch. Sahai explains how the neural engine made it possible:
It is almost beyond the bounds of humanity because it allows you to call the lines more accurately than you could with your own eyes. All we could do in terms of real-time video processing: get information right away, allowing users to challenge line calls directly to the track, none of that would be possible without the Neural Engine.
The other big difference: the App Store, which turned SwingVision into the app of the day in 2021 and made it instantly known to millions of customers.
Today, SwingVision has more than 10,000 monthly users, and counting, thanks to ARKit, Apple's augmented reality development kit for iOS and iPadOS mobile devices. With that, Sahai plans to be able to add graphics directly to the track, an exciting prospect, he says, given the capabilities of live broadcast that the company is currently working on integrating into the application.
Imagine a future where all tennis matches are broadcast by default, a future where parents who previously had to miss their children's big games can follow them remotely, wherever they are, with an iPhone or iPad as well. positioned using SwingVision. The device can stream video almost instantly without using too much battery or sacrificing quality.
For coaches and gamers, one of the main benefits of SwingVision is the ability to review and analyze a game recorded in the app on your favorite devices shortly after it's over. SwingVision is currently experiencing particular growth in academia, says Sahai, with more than 30 Division 1 teams currently using the app and many more are expected to join this summer.
The app is also starting to appeal to a certain segment of professionals looking to advance to the highest level of the sport: "Players who aren't in the top 200 and don't have millionaire contracts or coaches who can travel with them. All the time says Sahai. For the creator, even professional players like Serena Williams can find their account there.
What will come
Looking to the future, the SwingVision team is also working to add remote training to the app, creating new possibilities not tied to the limitations of physical geography, especially for aspiring players living in countries that do not have coaches. high level nearby.
Download the free app SwingVision: AI tennis application