Game news Roland-Garros eSeries: The Tennis Clash competition continues for the Grand Slam tournament
Roland-Garros is getting closer to the gaming world. The tournament has already started on mobile, and will soon continue with a final phase.
Tennis has always had a special place in video games, from Pong to Tennis World Tour 2, from Top Spin 4 to Wii Sports table tennis. It is therefore logical that the "traditional" sport of tennis and the eSport of tennis have merged in recent years. This is especially true in France, with the Roland-Garros Tennis Clash Tournament.
The only Grand Slam stage to host a full parallel eSports tournament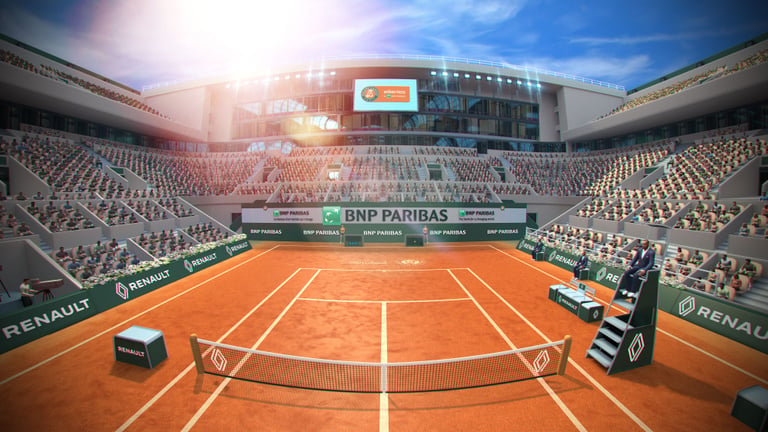 The world of professional tennis has hundreds of tournaments, but only one four Grand Slam tournaments. And among these, everyone has tried video games in one way or another: a video game animation in collaboration with Oppo at Wimbledon, events at Fortnite during the Australian Open, or a Fortnite final at the stadium. 'US Open. But only one tournament participated in body and soul: Roland-Garros. In fact, the French Open is being played in mud and in mobiles from now on ! Is the only tournament among the four major tennis competitions that offers a full competition in parallel. In addition, the The final will take place at Roland-Garrosat the legendary Philippe-Chatrier court.
With the organization of the largest eTennis tournament in the world with a final at Roland-Garros, the FFT once again demonstrates its ability to build links between generations and innovate. Mixing traditional sport and sport, developing eTennis for everyone, are big challenges for our federation, which wants to be a pioneer. We are delighted to allow players of all levels and from all walks of life to take part in this great tournament, which will also be a special place for women this year. This tournament promises to be a very popular moment. I cordially thank ours.
Gilles Moretton, President of the FFT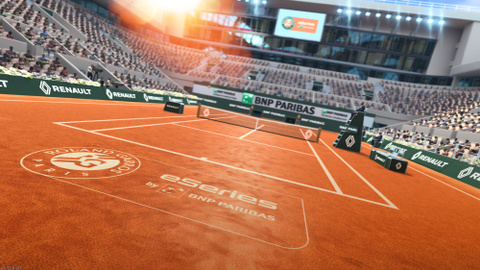 The tournament will take place day and night, as you can see in these pictures
The Philippe-Chatrier track from Roland-Garros reproduced in the game
In fact, that The fifth edition of BNP Paribas' Roland-Garros eSeries further boosts the links between tennis and eSports. For this edition, the French Tennis Federation has made major changes. First, by offering the tournament on the world's most popular tennis game, Tennis Clash developed by Wildlife Studios, already downloaded 90 million times on iOS and Android. The game also offers tournament-specific additions, from the The short Philippe-Chatrier reproduced it identically. You can even buy Roland-Garros ropes for your racket, to improve the performance of your game character. On the other hand, the Official Roland-Garros eSeries partners were also honored at the stadium in play: BNP Paribas and Renault signs can be seen around the track.
Transferring the Roland-Garros eSeries from BNP Paribas to the mobile in collaboration with Tennis Clash has allowed us to take an important step in the development of our competition. All these excellent figures show that we have been able to offer an attractive experience at Roland-Garros on an international scale. eTennis is a growing discipline in which we firmly believe and I would like to sincerely thank BNP Paribas and Renault for their commitment to us.
Aymeric Labaste, Head of International Development at Roland Garros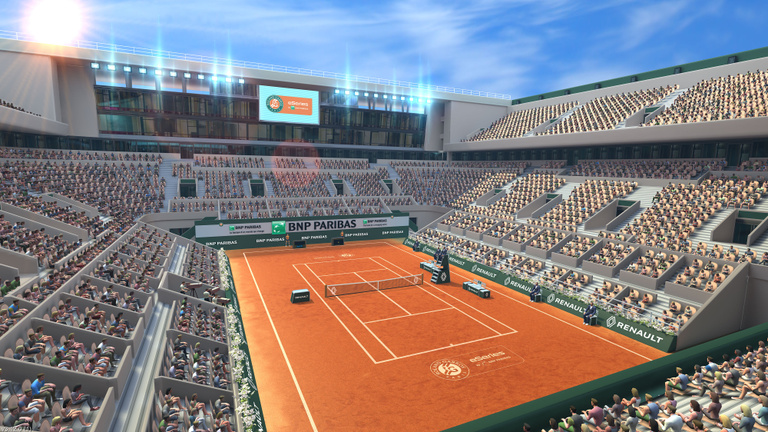 Given the worldwide popularity of Tennis Clash, it makes sense for this game to be selected for the Roland-Garros eSeries series by BNP Paribas. We are honored to have been selected for this prestigious tournament and are proud of this partnership.
Barak Shaked, Tennis Clash Game Director
Four classified, eight classified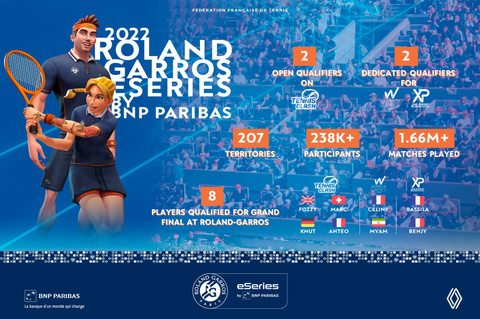 After four qualifying roundswho have seen more than 238,000 participants, in 1.6 million matches, place in the final stage! Eight finalists will have the opportunity to participate in the final on-site tournament at Roland-Garros on May 21st. The full list of eight finalists who will compete for the title of "eTennis World Champion 2022" is as follows:
Benjamin Millot, alias Benjy, and Baptiste Verlaine, alias BasSilA. Two French participants, classified through the eSportive XP student tournament.
William Foster, also known as Fozzy, and Mark Riebe, also known as MARC. A British participant and a Swiss participant, classified through the first tournament open to the general public.
Knut Ehrig, also known as Knut, and Anass Benghazi, also known as Anteo. A German participant and a French participant, classified through the second tournament open to the general public.
Maryam Sharafi, alias Myam, and Céline Lorente, alias Celine. An Iranian and a French participant, classified through the Women in Games tournament.
In fact, for the first time in 2022 FFT and WiG have teamed up to promote the place of women in this tournament and in eSports. Thus a stage of the qualifying tests for women was reserved, allowing Myam and Celine to access the Grand Final. The two classified, accompanied by the XP school students qualified, they were entitled two days of bootcamp preparation at the MCES Gaming Center. Enough to train them to become professional players someday, if they wish.
We are delighted with this very young partnership between Women in Games and the FFT. The sincere commitment of the FFT teams has made it possible to establish a more favorable environment for the participation of women and their access to the final stages of the competition. We are delighted that the entire system has been designed for equal player representation, and we hope that this edition of BNP Paribas' Roland-Garros eSeries is just the first milestone in a long-term partnership!
Morgane Falaize, President of Women In Games France
This Saturday's Grand Final, live from Roland-Garros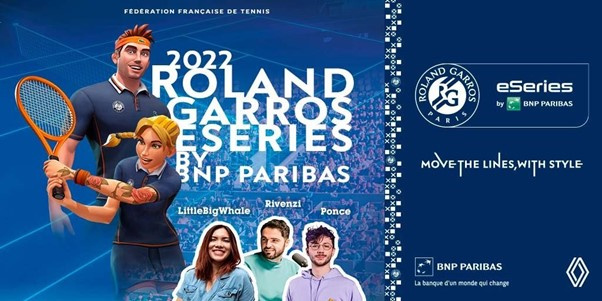 He The Grand Final will therefore take place on Saturday from 5 p.m. and will be broadcast live on Revenue Twitch Channel. The streamer had already aired a qualifying event, this time it will be accompanied by Ponce, LittleBigWhale to comment on this final live from Roland-Garros. They also tell us several surprise guests … Please note that the winner of the tournament will win € 3,500and his rival in the final 1500 euros, by the French Tennis Federation. On the other hand, all participants are entitled to various freebies within the game, which is offered by Tennis Clash as they progress through the rounds of the tournament.
See you on Rivenzi's Twitch channel on Saturday, May 21 from 5 p.m.