Spring, or the season that rhymes with Roland. Rafael Nadal and Novak Djokovic, present at the same table for the first time in 2022, are engaged in Madrid this week to prepare for the high Parisian clay mass. Far from the Magic Box, hoping to one day become such prolific tennis charms when it comes to hitting magic rackets as the Spanish and Serbian, wizard apprentices learn more and more new tricks. In the junior circuit, young people continue to grow and reap the fruits of their labor. For many of these French aspirants, progress goes through the Roland-Garros Juniors. With the dream of imitating the Young Talents Luca Van Assche and Elsa Jacquemot, winners respectively in individuals of this category in the years 2021 and 2020. Winner of the Small As last year, Mathilde Ngijol, 14 years and number 1 tricolor for 18 less, you have a good chance of receiving an invitation, like last year. A wildcard that Guilhem Laget, 16th in the world of wheelchair tennis and third in France, can also legitimately aspire to. Both, like Daphnée Mpetshi Perricard, have been especially distinguished in recent weeks.
Mathilde Ngijol-Carre
Age: 14 years
Ranking: -15 (French ranking), 126th in the junior world on 02/05/2022
Performance: Semifinalist of the Casablanca J1 tournament in mid-March
Following a first final in a 3rd round junior tournament in Manacor in February, Mathilde reached her first 1st round final in Morocco. Thanks to these results, he climbed to 117th place in the junior world ranking, his best ranking. Considering only players born in 2007 and later, "MNC" ranks seventh in the planetary hierarchy.
From your second J1 tournament, you reached the semifinals: did you expect to arrive so fast or were you surprised?
After making a final at J3 in Manacor, I knew I had my place at this table. But I didn't feel very good training before the tournament started, so I was a little surprised to get to the semifinals.
You have chained the final at J3 in Manacor and the semi-final at J1 in Casablanca (especially beating Udvardy, who is a member of the Junior Top 30 for the second time): what milestone do you think you have achieved lately, in which area do you think you have advanced the most?
I think I've come a long way in the area of ​​"playing well badly" (being able to win on bad days, editor's note). Most of the games I won, I didn't play my best tennis, but I struggled.
Your best photo of the tournament in Casablanca?
I felt my setback in this tournament, I was pretty solid on that side and I was able to rely on that shot.
The key moment of your tournament in Casablanca?
The start of my third set (in the first round against Luca Udvardy and then in the quarterfinals against Anna Paradisi) were key moments for me, "to take the point home".
Did you experience an unusual moment on the court during the Casablanca tournament?
Not really in Casablanca. But at the beginning of the season, in Sousse, Tunisia, I found myself without a suitcase at the airport. I only got it back in the middle of the week, at the end of my tournament …
Did you have time to visit Casablanca?
Unfortunately not, because I had to return home quickly to Paris for family reasons.
Guilhem Laget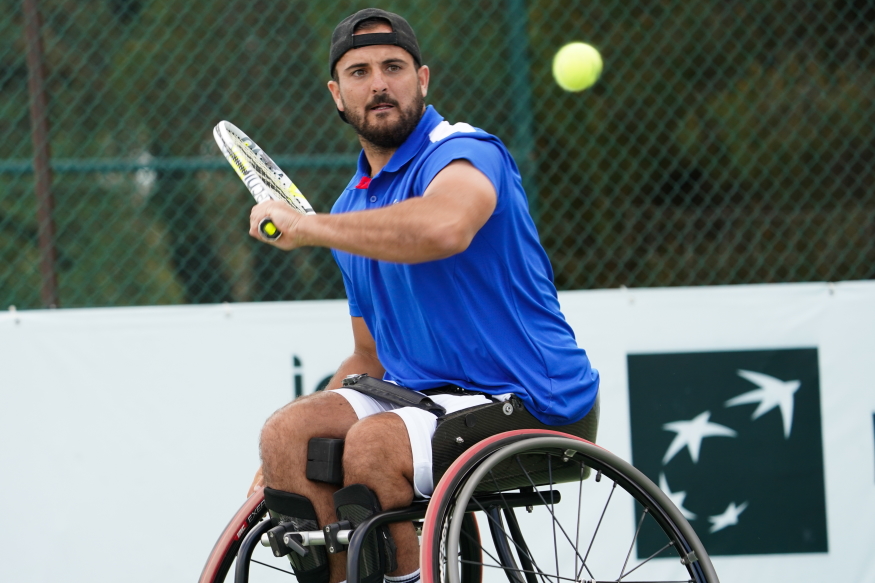 Age: 24 years
Ranking: 16th in the world from 02/05/2022
Performances: two semifinals and a quarterfinal since the end of March, entry in the Top 15 in the world
Guilhem Laget continues to climb the ladder of wheelchair tennis worldwide. After a very good end to the 2021 season, he started 2022 with his feet on the ground. Guilhem, number 3 and 16 Frenchman in the world this week – after being 15th, his best ranking, on April 18 – has been given serious opportunities to make one of his dreams come true: to participate in Roland-Garros. In previous editions, Frédéric Cattaneo, then third tricolor and first French player ranked outside the Top 8 behind Stéphane Houdet and Nicolas Peifer, had received the coveted sesame (eight players participate in the main draw: the top seven ranked plus one). wildcards).
After a semifinal in Houston (ITF Series 3) and a quarter in Antalya (ITF Series 2, two ITF Series 2, you were 15th in the world and number 3 in France before continuing with a new half in Vilamoura (ITF Series 2).: Does the wildcard smell good for Roland-Garros?
I hope it is wholeheartedly, in any case I have done everything possible and everything it took, I think, to achieve it. After all, it's not up to me, but I hope to have this opportunity to be able to participate in Roland this year.
Did you expect to reach the top 15 in the world so early in the year?
No, it is true that it is crazy, with the end of last season and the beginning of the season that also starts very well. I didn't expect to get to this place. It was totally unexpected, but I think I'm in the ranking that suits me and I'm very proud of it.
What milestone do you think you have reached lately, what do you think has improved the most?
I think at the end of last season I took a turn, with wins over players ranked higher than me, which gave me a lot of confidence. In recent weeks I find that I have advanced in terms of service, and also in terms of "hand" (play, touch, editor's note) and reflection during matches. I've been doing really well lately, I think, and I'm very happy with the results.
You faced Gustavo Fernandez in 2020 (Argentine 6/2 6/0 victory), Shingo Kunieda in 2021 (6/1 6/0 victory at the Japanese monument) and Nico Peifer in April (victory 6 / 1 6/0 of Peifer): What do you still have to work on to compete with these 8 best players in the world?
In fact, at the moment I have a bit of trouble competing with the Top 8. It's another level. I work hard to make up for my lack of movement and intensity, but also the heaviness of the ball. These are the elements that I think currently make the difference between the best in the world and me.
Do you have the opportunity to train regularly with Stéphane Houdet and Nicolas Peifer?
Yes, we have the opportunity to meet in training courses or to be able to type together during tournaments.
Can you tell us in which area it helps you especially to train with them?
At every meeting or training with Nicolas and Stéphane, it is an accelerated learning process. They push us to progress and keep doing our best to keep them up to date.
Did you have time to visit Antalya, Vilamoura and Houston during your last tournaments?
Yes, these are three wonderful cities. I had a little more time to visit Vilamoura and Houston. I loved Houston, it's America as you can imagine with the huge skyscrapers. I also really liked Vilamoura, it's a very nice place! On the other hand, I didn't have time to discover Antalya. A little pity; it has a reputation for being a beautiful village.
Daphnee Mpetshi Perricard
Age: 13 years
Ranking: O (French ranking), 1111th junior world championship on 02/05/2022
Performances: two consecutive semifinals at J5, Saint-François and Le Diamant
At the age of 13, Daphnée Mpetshi Perricard discovered the junior circuit. After a second round in 3rd grade at Saint-Grégoire in late 2021 to pick up his first points before being limited by an injury, he reached, in April, two consecutive semifinals in J5 of his second and third youth tournament. What position already places it in the 34th planetary position of the players born in 2008 and later. The icing on the cake, associated with her compatriot Milena Ciocan, won the double in Saint-François.
You're still in your junior circuit debut – have you surpassed your goals by reaching two semifinals in J5?
He had no goal of results, because he was returning from an injury. It was a return to competition. My only goals were to play well, let my game speak.
During the two semifinals you lost to the same rival, Nehanda Thomias, also French. Did you know her personally before facing her?
No, I didn't know her.
What caused you problems in your game?
Nehanda is a good player, with experience (she is 16 years old, ed.) And a very offensive game. In those two halves, I didn't know how to make the right tactical decisions. During the second meeting, it was very windy and it was difficult for me to put my game in its place.
What milestone do you think you have reached lately, what do you think has improved the most in recent weeks?
For two months I did a lot of strengthening, fitness and physical therapy. I was detained from late January to early March, with a gradual recovery. I had to be patient, lower my racket and take care of myself. It's not always easy not to play, I've learned to be patient.
Then, during this tour (in April, in Guadeloupe and Martinique, ed.), I learned to play better with the wind, there really was a lot of it. I also learned to be more independent.
What was your best chance at Saint-François and Le Diamant?
In Saint-François, my best shot was volley. Especially in doubles, which we won with my partner, Milena Ciocan. At Diamond, my setback was quite effective.
Did you experience an unusual moment on the court during these tournaments?
During a doubles match, I inadvertently served the volleyball player in front of me. In this same game, in a service of my teammate, the ball hit me (if a service touches the volleyball player without having previously touched the ground, the point is won by the team doing the service, ed.). Then those moments made us laugh.
Did you have time to visit Guadeloupe and Martinique during these tournaments?
We didn't have much time to visit these two islands. Between matches and training, the days were busy! But we were very well received and the beaches are magnificent. From the hotel and the Martinique club, we had a view of the Rock (the Diamond). I was able to go to the market to buy souvenirs, local products, such as spices, soaps … I was also able to see a small fragment of a traditional dance and music show in Martinique. This is a journey I will not forget.