In this new version of the Digital Report, the global study conducted by Hootsuite and We Are Social, you will find the latest statistics on the use of the web and social networks, as well as trends in e-commerce, games or even and all mobile, to better understand current digital issues. This April 2022 update of the report shows the great momentum recorded by TikTok, while the use of social media and the evolution of the Internet connection are beginning to stagnate.
Here are the top 10 numbers to remember:
5 billion Internet users in the world, or 63% of the world's population,
196 million additional internet users in the last 12 months (+ 4.1%),
5.3 billion people use a mobile phone (67% of the world's population),
4.65 billion members (58.7% of the world's population),
326 million new social media users in one year (+ 7.5%),
32 million new social media users since the beginning of 2022 (+ 0.7% in the last quarter),
92.4% of Internet users surf online from a mobile device (-0.4%),
6h53 invested on average per day on the Internet (less than 3 minutes),
2:29 on average on social media every day (+7 minutes),
7.4 platforms used on average by social users each month.
The growth of social media is slowing down, Tiktok setting a new world record
The evolution of the number of social media users increased less during the first 3 months of 2022, in contrast to the sharp increase observed since the beginning of the pandemic. According to the report, quarterly growth reached only + 0.7%, or 32 million new users in April 2022. The use of social media has tended to stagnate for several years. months, after having recorded particularly high rates, especially with the successive confinements. This slowdown is explained by the ceiling reached worldwide with more than 9 out of 10 Internet users connecting to social platforms every month.
If we focus on "eligible" audiences 13 years of age or older, the data also suggests that more than three-quarters of all people on Earth who can use social media already do so, which may partly explain why growth rates began to decline.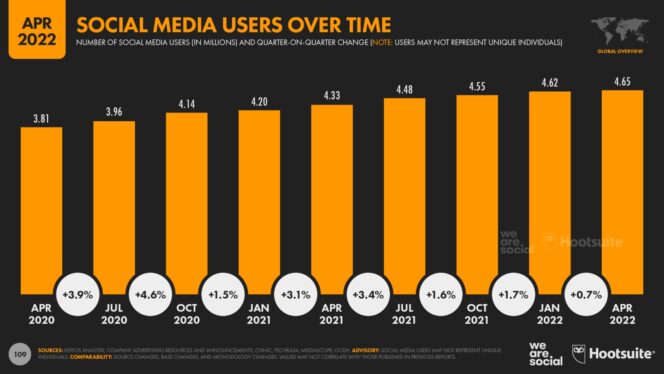 If used less on a global scale, We Are Social and Hootsuite point out that social media is especially popular in China, which now has 1,007 million users (+ 2.6% in 2021). The Chinese social media community represents 21.6% of the 4.65 billion users of these platforms in the world, but also 97.5% of Internet users in the country. These different figures confirm the importance and weight of this region in the global use of social networks.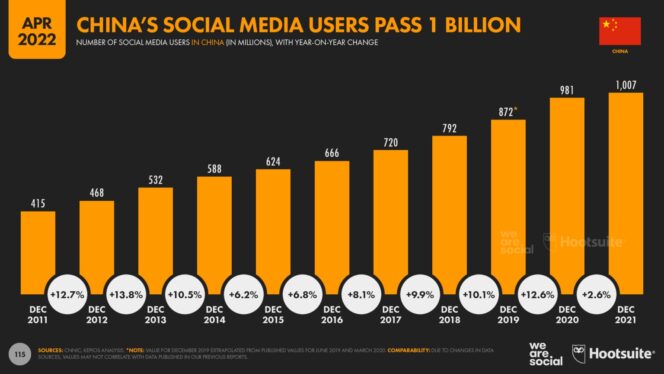 TikTok nearly one billion users, historical cumulative spending in the first quarter of 2022
According to the latest advertising resource statistics provided by ByteDance and broadcast within the Digital Report, TikTok's advertising audience reaches 970 million users aged 18 and over. The momentum continues for the platform owned by the Chinese giant: it increased by 9.6% during the first 3 months of 2022, with 85 million new subscribers. Its popularity is concentrated mainly in the Middle East and Southeast Asia, where it exceeds 50% of the audience.
To put it in context, this means that TikTok's adult audience is currently growing at a rate of nearly 1 million new users every day.
$ 840 million spent on all ByteDance apps
With $ 620 million spent on TikTok in the first quarter of 2022 in addition to the $ 220 million registered on Douyin, the other app of the Chinese group, ByteDance has amassed $ 840 million in 3 months, a record! This figure is especially surprising because it only includes purchases from the application of "bonuses" purchased by users, that is, virtual gifts sold by the creators, thus resembling a form of tip on the platform.
This is the largest sum a mobile application has ever earned in a single quarter thanks to end consumer spending (…). These figures do not include traditional advertising spending, social commerce transactions, or marketing deals between brands and influencers.
In detail, these expenditures were mostly made in the United States with more than $ 310 million in in-app purchases on TikTok between January and March 2022. The growth of these purchases by US consumers has increased elsewhere by 125% in the first quarter of 2022. In total, more than $ 3.7 billion has been spent on TikTok and Douyin since these apps became available in the App Store and Google Play Store.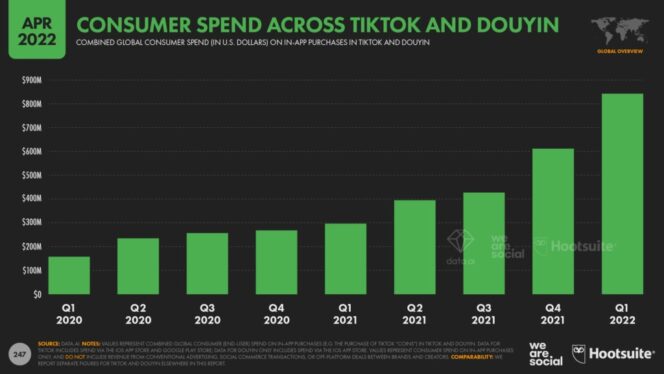 Target affected by the Russian-Ukrainian crisis, Snapchat is approaching 600 million users
Other data from the Digital Report on social media include:
A 7% drop in the number of Meta users in Ukraine since the beginning of the Russian-Ukrainian conflict, or 1.7 million fewer users on Facebook, Instagram and Messenger.
Instagram's overall audience fell 1.8%, or a total of 26 million fewer users in the last 3 months.
Snapchat growth of 6% with 32 million additional members worldwide, for a total of 589 million users (+ 11.6% in one year).
The goal of 5 billion Internet users worldwide
While the first data transmission over the Internet took place in October 1969, just over 50 years ago, the We Are Social and Hootsuite report takes a look at the growing number of Internet users and the milestone of 5 billion users just crossed in April 2022.
Thus, we can identify the following key dates to better understand the evolution of uses:
August 1991: less than 4 million Internet users, when the first website went online,
1995: more than 50 million users thanks to the lifting of trade restrictions on the Internet,
2005: 1 billion people connected to the Internet,
2011: 2 billion Internet users,
2015: 3 billion Internet users,
2017: more than half of the world's population browses online,
2018: 4 billion registered internet users,
April 2022: it has reached the bar of 5 billion Internet users, representing 6 out of 10 people worldwide.
Although growth rates show a slight slowdown in the number of users in recent years, they have increased by almost 200 million in the last 12 months (ie + 4% in one year). " In addition, there is a good chance that the current COVID-19 pandemic will continue to hamper research into the adoption of connected technologies, and the actual number of Internet users could be higher than these figures suggest. "We We Social and Hootsuite emphasize.
More than 48 hours of internet connection per week
With an average of 6 hours and 53 minutes online, the 5 billion Internet users spend a total of more than 2 trillion minutes each day on the Internet, which represents " more than 40% of your "awake life" online », And more than 48 hours online each week.
According to the report, billions of people now spend more time using connected devices than working.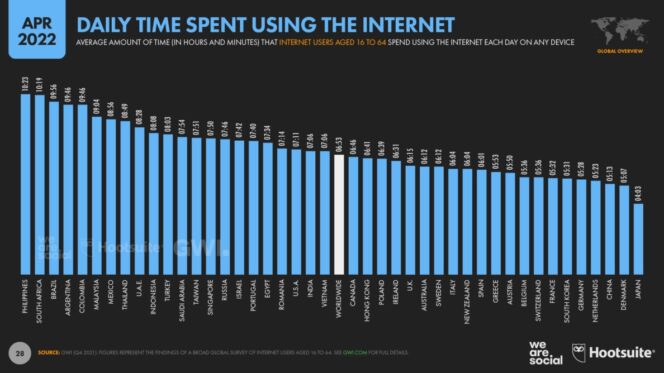 Inequalities that persist around the world
If the volumes are especially important, inequalities are maintained in terms of the number of people who do not have access to the Internet in the 4 corners of the sphere. The April 2022 Digital Report reveals that 2.9 billion people do not connect to the Internet, accounting for 37% of the world's population. More than a third of those "unconnected" reside in South Asia. They are more than 1/4 in India, that is, 744 million people offline (53% of the country's population), 145 million in Pakistan (63.7% of the population) and 114 million in Bangladesh (67.9%). In China, which has more than a billion Internet users, the unconnected population reaches 28.7% of the population (i.e., 415 million people).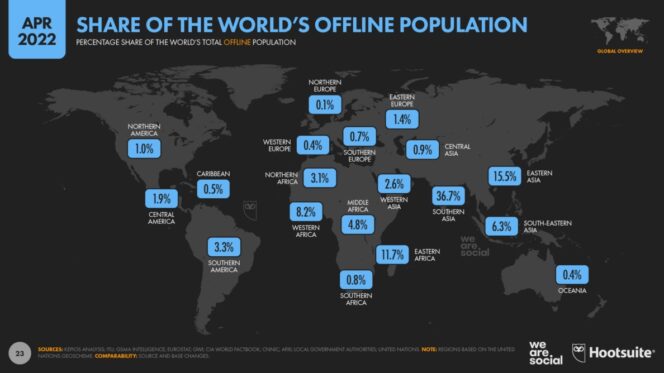 If the report analyzes that " the economy plays an important role in the equal opportunities of the citizens of a country to access the Internet », Different cost factors must be taken into account to understand the challenges associated with their democratization. Among these reasons are certain policy decisions, the aim of which is to "block" public access, but also more general infrastructure problems such as access to electricity or lack of awareness of its use in countries. in development.
The favorite activities of internet users and their favorite places
When they can connect, Internet users between the ages of 16 and 64 especially enjoy chatting online and texting (95.7%) and going to social media (95.2%). Behind them, online search by engines (82.4%) outperforms activities related to shopping (57.1%), as well as geolocation services such as Maps (56%).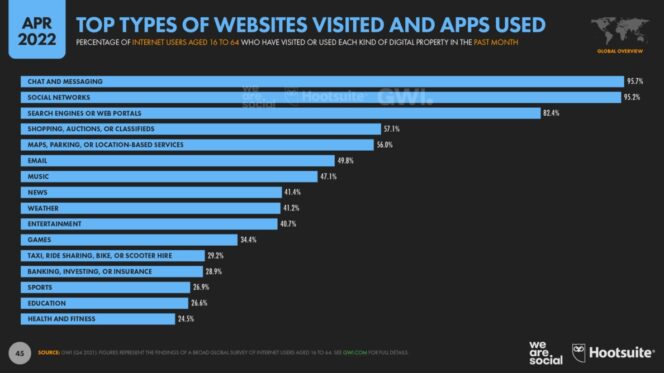 As for the most visited sites, the figures shared by Semrush in February 2022 show a podium formed by YouTube.com (site only), ahead of Google.com and Facebook.com, with an average of between 20 and 25 minutes per visit.
Semrush data indicates that the YouTube site hosted about 50 billion different "sessions" of users in February, and visitors spent an average of more than 25 minutes on the site. This suggests that people spent more than 20 billion hours on YouTube.com in February 2022 alone, which equates to more than 2.3 million years of combined human existence.

But Semrush reports that Google.com is still attracting the most unique visitors from any website in the world, with more than 5.5 billion unique visitor identities as of February 2022.
Other lessons to be learned from this ranking:
Wikipedia ranks fourth with 1,990 million unique visitors,
Amazon is the 10th with a total of 3 billion visits to its site in February 2022.
Yahoo! is still a major player in the web with 2 places in the top 20: the ".com" domain (13th) and the ".co.jp" focused on Japan (19th), which have 2,450 million and 1,300 million visits respectively
Apple's top domain enters the top 20 (14th) with 2.4 billion visits.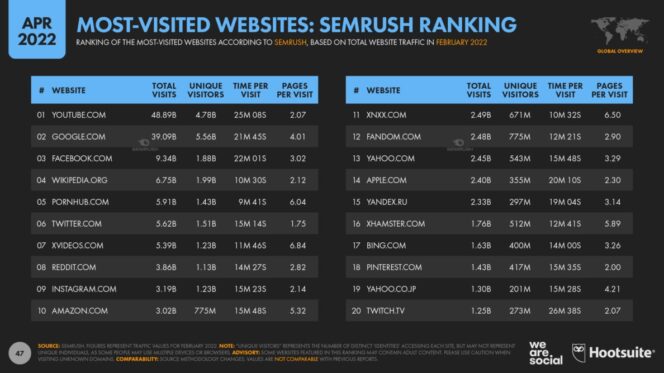 Find all the data shared by We Are Social and Hootsuite in the April 2022 update of the Digital Report on this page. You can also see the summary below, which summarizes the top 10 trends in the report: