Thu 21/04/2022 – Especially for non-European markets.
If we had to do a remake of the movie mechanical hell (The Car, 1977), the story of a devil-owned car, no longer one would have to be built especially for this achievement. We could take the new BMW 7 Series without any modifications. After testing it on an X6, the Munich manufacturer had the good idea to offer a completely unchecked version. Grille, window shutters, door handles, everything is black and it's crazy. A real Dracula car. It's going to be scary, and that's great.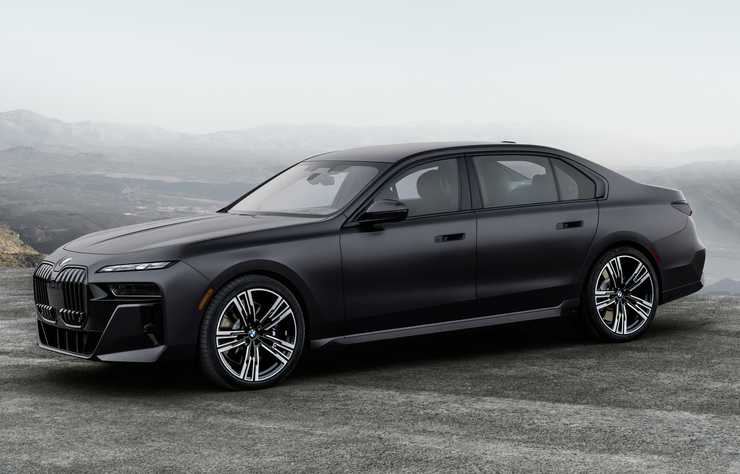 Then, and this is no longer a surprise, the lines are impressively simple. At a time when the rather smooth lines dominated, the smooth curves to favor the aerodynamics, the new 7 series impacted the spirits with a perfectly vertical grille and a well-marked 3-volume body. There are no rounded ceiling lines and no fast rear window. It's very stiff, like a tailcoat, but it's beautiful.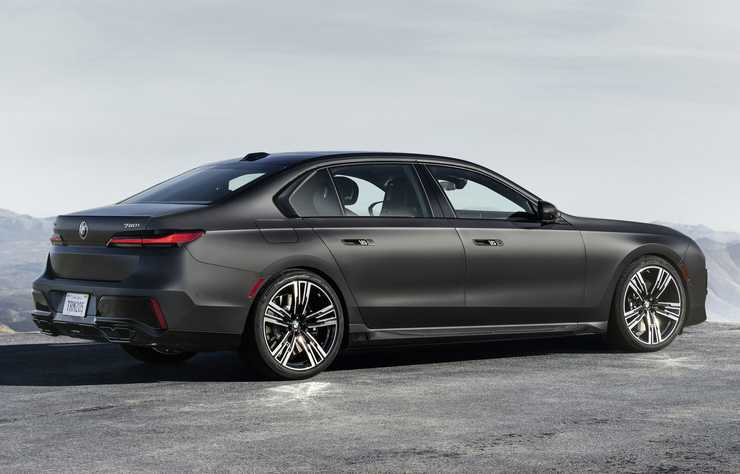 But probably not for Europe. We will always remember the 70's, when American manufacturers mass-produced 5.80 m long cars. We thought we'd never see it again, but we're getting closer. The 7 Series was traditionally available in 2 versions. A standard model, and a version with an extended wheelbase of 12 cm, for the sole benefit of the rear passenger legs. Now there is only a long version, and it reaches 5.39 m. It will be fine for those who have a big villa in Beverly Hills or Dubai, but in Paris or Rome, riding the 7 Series will not be easy.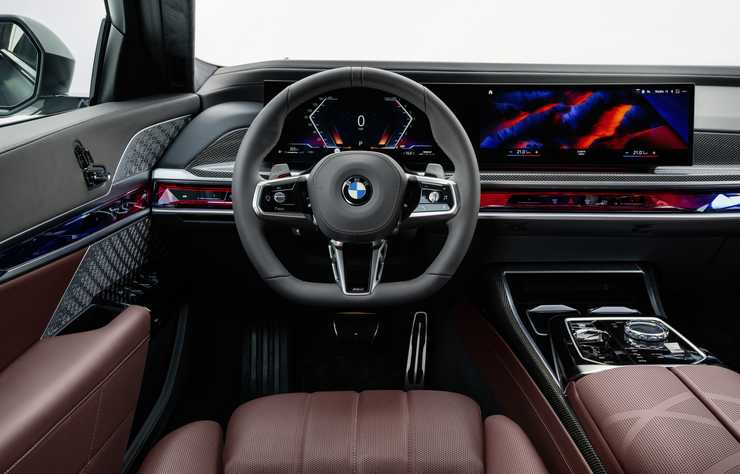 Although the luxury of the interior will be able to make you forget the difficulties of maneuverability. BMW is effectively inaugurating for this new generation of its 7 Series a mixed upholstery for its seats: leather and cashmere. In terms of equipment, it sets new standards, as the best music system has no more and no less than 36 speakers. You have to imagine how long it took to optimize such a sophisticated hi-fi installation … And for the rear passengers there will be something new in the form of a movie screen. Yes, the small screens on the back of the front seat headrests are obsolete. Here's a folding screen, usually against the ceiling, but rotating to offer a 32: 9 screen (twice the width of a 16: 9 TV), with an 8K resolution. We can zoom …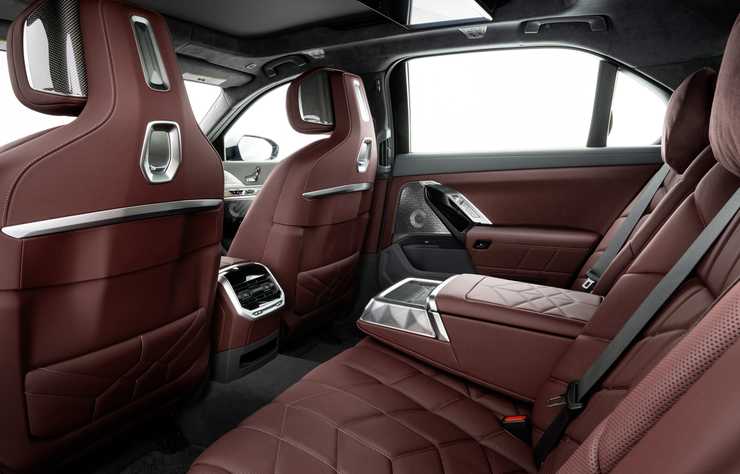 As for the propulsion, we already knew that there would be no more V12, but it is a surprise to know that there is no more V8 either. At least in Europe. Because if there's still a 7 Series V8, it's for the United States or the Emirates. On the old continent there will be an i7 electric version, an inevitable diesel version, as for years it has been by far the customers' favorite, and finally 2 plug-in hybrid versions, with 6-cylinder turbo-petrol.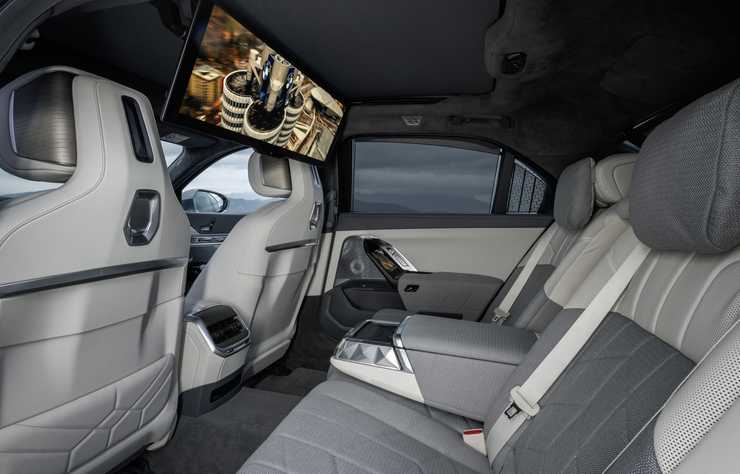 These cars have a 6-liter 3-cylinder. From 310 hp on the 750th xDrive (with 450 Nm of torque), or 380 hp (with 520 Nm of torque) on the 760th xDrive. With a 145 kW electric machine with 280 Nm of torque, the total power available is 360 kW (490 hp) with 700 Nm of torque (750e), or 420 kW (571 hp) with 800 Nm of torque (760e) ). With a battery with a usable capacity of 18.7 kWh, the range in electric mode is 80 km.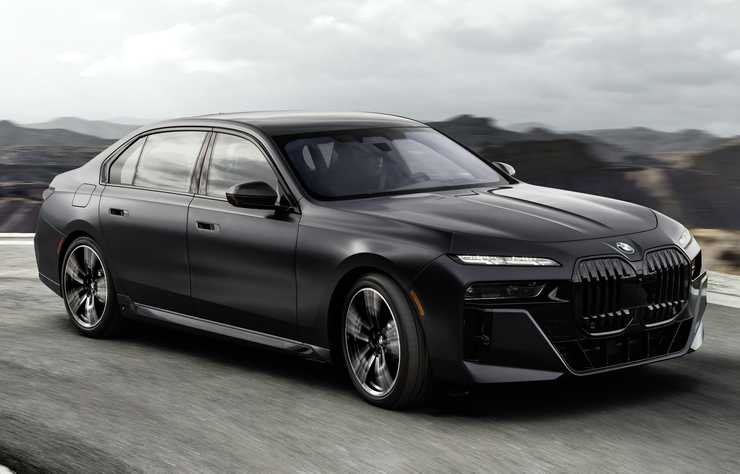 Many will probably prefer the 740d, with its 286 hp 6-cylinder turbodiesel, now with a slight hybridization at 48 volts. It goes from 0 to 100 km / h in 6.3 seconds, with an official average fuel consumption of 5.9 l / 100 km, and a real range of more than 1000 km … And everyone will be impressed by the technology of the car, with for example 5 cameras to film front, rear, side and driver if the burglar alarm is activated. Much work has also been done on the suspensions to ensure perfect comfort in all circumstances, and of course in maximum silence, not just the electric version.
Do you like this all-black, all-black style?
Category (ies) and word (s): BMW; plug-in hybrid car