We don't really remember when it was our first interview with Louis Rossi, but it must have been in 2009 at CEV. At the time, the Spanish championship brought together the elite of European teams and the best hopes for the Grand Prix.
The two-stroke bikes were of the highest standard and shining on them proved as difficult as in the Grand Prix. But from the first race, Lluís Rossi there he took second place in Albacete with his KTM in front Clement Dunikowski in your Aprilia lined up by Provence Motos! Season 5 will end, behind Alberto Moncayo (a very talented rider who disappeared from the circuit), Maverick Vinales, Miguel Oliveira and Isaac Vifinals. This will allow him to return to the World Cup after a first attempt with the French team.
The French in Albacete in 2009: from left to right, Quentin Jacquet, Clément Dunikowski, Louis Rossi, Steven Lecoquen, Richard de Tournay, Pierre Ginieys
The rest we know, with a sensational Moto3 victory at Le Mans in 2012 in front of a crowd soaked but conquered, his move to Moto2 and then his career in Endurance.
Today, Manceau closed the circle and took advantage of the 24 Hours of Motorcycles, during which he served as a reserve rider for the Moto Ain team, to announce the end of his motorcycling career.
The violent accident, which hit the former MotoGP rider Bradley Smith on the way out, it was probably the last drop for his teammate Lluís Rossiafter having damaged his body during two major falls in recent months, very seriously at the Paul Ricard circuit last September and then during pre-Mans tests in March.
Louis Rossi: " Bye! After 17 years of good and loyal service, I put my skin in the closet! You can imagine that it is with great emotion that I make this decision …
There are so many memories, podiums, incredible races, encounters, trips, tears sometimes and this victory at Le Mans in 2012 …
I want to thank all those who, close or distant, accompanied me, supported me or shared with me a little or a lot of this life of motorcycle racing.
It is also the beginning of a new life with more wheels and a lighter combination … Who knows …
So see you soon! »
12 years ago, we were already saying "Shit!" a Lluís Rossi for their projects. Obviously, today we reiterate the same success in his automotive projects as what we saw landing in the French championship with his motorcycle lying on a trailer pulled by his mother's R5 …
---
Hi Louis. Can you remind us of your trip to your first Grand Prix?
" After starting with the Junior Cup, I joined the FFM Future Challenge. The first year, in 2006, I finished 4th.
In the second year, in 2007, I was runner-up in France and winner of the Challenge, which allowed me to join the French team: 3rd in Donington and 2nd in the Dorna Cup, the French Federation offered me a wild card for the Estoril Grand Prix, then Sepang.
In the meantime, I'm breaking my leg at Mugello … I'm not going to Malaysia or Spain: the season is coming to an abrupt end. This is how in 2008 I reached the World Championship with the Honda FFM team. »
What do you remember about this first foray into the Grand Prix?
" It is a very complicated championship, you have to be prepared at all levels (technical, physical and mental). »
Why can't you stay in this category?
" Since the winter of 2009, I have not found the necessary budget. »
Then you decide to do the CEV in Spain. Your assessment for this year 2009?
" I remember going through the CEV is crucial before tackling the Grand Prix. There I learned a lot, had a lot of fun and everything allowed me to progress. »
What were the features of your bike and what differences did you notice between your KTM and the Honda kit?
" The KTM is a smaller, more advanced bike, the chassis is a bit stiffer, but it's also not night or day compared to the Honda from an engine standpoint. »
At the level of "coaching", who helps you and can you give us a concrete example?
" It was Frédéric Terrier who was by my side this year, just like in 2007. We know each other well, which allowed us to work efficiently. We were accompanied by Loïc Roullier, a physical trainer, and the triangle worked well. »
A word about your computer?
" It's the same, we knew each other perfectly with Laurent Pradon and Eric Raynault. Pierre Guyonnet, Nicolas Reboul and Noël Juradeau came on time, they were already by my side in 2007.
Finally, when people who like and respect each other decide to work together, a positive atmosphere is created and often the accompanying results. »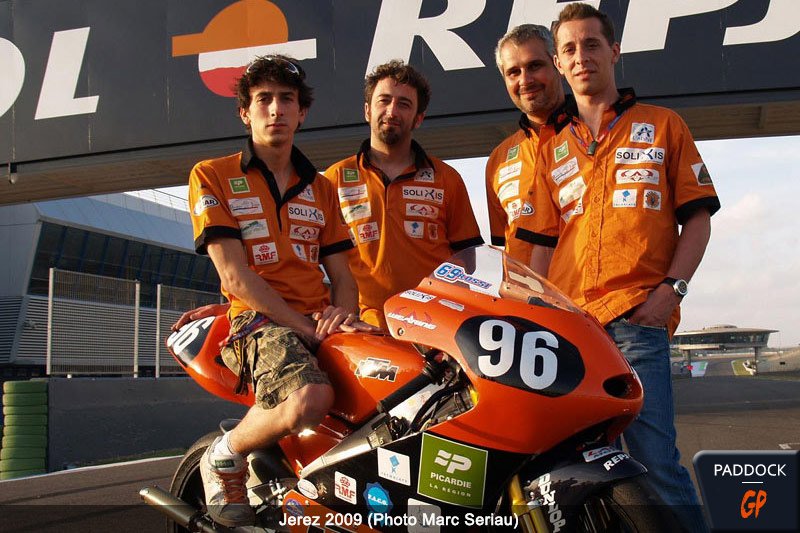 You have always analyzed each of your races. What part do you give to your mental, physical, work and talent?
" I attach great importance to the mind and work (including the physical). For me, these are the 2 key elements of success.
As for talent, I think it's a foundation for development … It would be a mistake to be content with that. »
Any advice for new to 125?
" Start saving … Don't cut corners. »
A trap to avoid?
" "The slower I pedal, the more I brake! … in other words: be lazy. »
Your best memory of 2009?
" The first podium of the CEV. »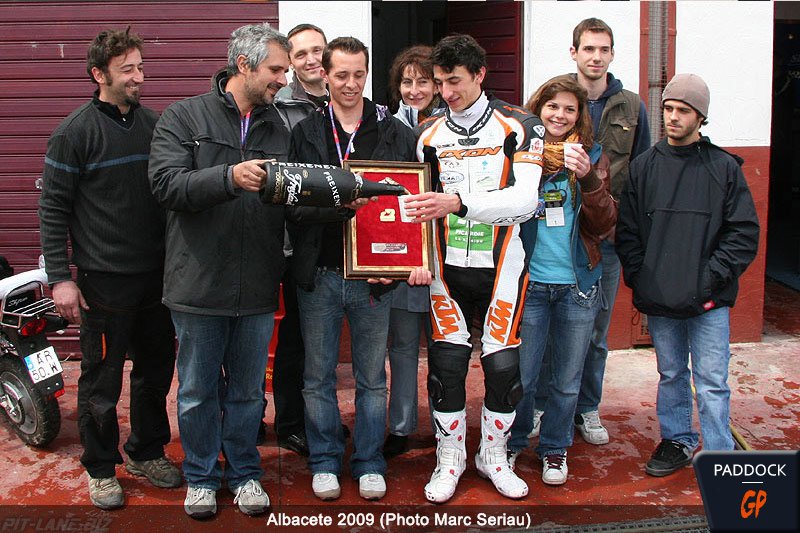 Your worst memory of 2009?
" The same end of the season. »
In 2010 you went back to the GP 125. Was it difficult?
" From a technical point of view, it was not difficult, it had had several interesting proposals since the end of summer. On the other hand, making a budget was not an easy task and I take this opportunity to thank all my partners! »
A word about CBC Corse and your next bike?
" So it's an Italian team. We met in Italy in late November and things went well. The bike will be an Aprilia RSW 2008: a first for me! »
Your ambitions in 2010?
" I hope to be able to add points regularly. »
You will be four French in the category. How do you relate to others and will there be friendly rivalry between you?
" I don't know Johann (Zarco). I get along well with Alex (Masbou) and Quentin (Jacquet).
Inevitably there is rivalry between all the drivers but between French I think we can help each other. It is an opportunity to be diverse. »
Thanks Louis! We'll be very happy to follow your races and say "shit" to you this year.
---