Merida desperately needed help. The young cat was found in a very bad condition on a farm in Ohio (USA). Jillian, founder of FosterBabyCats, rushed to rescue her.
When Jillian he knew a 2 month old kitten needed help, he immediately jumped into his car to pick it up. Most likely " trampled by a large farm animal », Merida ended in a serious spinal injury. His hind legs became unusable as a result of this accident.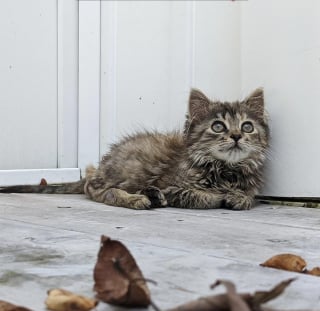 © FosterBabyCats
Once in her arms, the volunteer took her new position to a veterinary clinic, she reports lovemeow. At the event, health professionals admitted that they could not do anything. Jillian he didn't hear it like that and decided to give the little feline a chance to fight.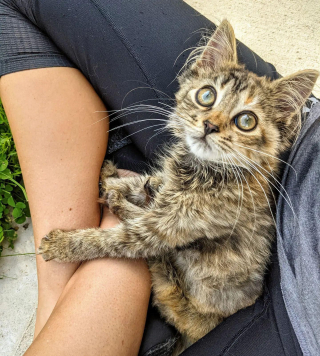 © FosterBabyCats
A little warrior
During his quest to improve the kitten's life, Jillian met the Dr Jackie Holdsworth. " He contacted us, gave us advice and sent us lots of supplies to help us take care of Merida. "He explained Jillian to our colleagues.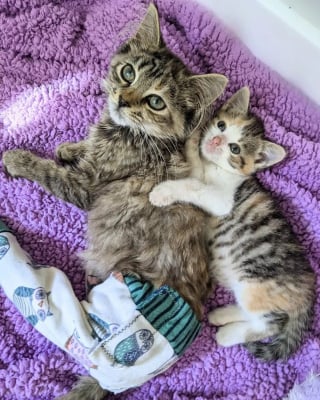 © FosterBabyCats
The young cat, which was named after the main character in the animated film Rebel, was determined to live, despite her disability. Indifferent to the gaze of others and endowed with an iron will, the fur ball began to explore its new environment by dragging its paralyzed limbs, but also to make its law among the resident felines!
Merida he can only have 2 functional legs, he is still a real little fighter.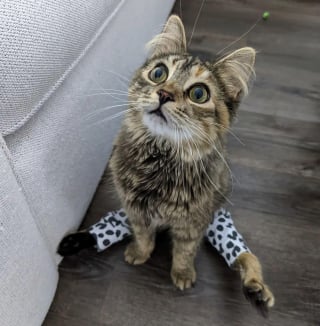 © FosterBabyCats
"Every day is a new adventure"
In the months following his arrival with his host family, Merida they underwent a lot of treatments and therapies. One day he received a mini cart equipped with 2 wheels.
At that moment, his energy – already overflowing – multiplied by ten! The little tornado ventures all over the house and has fun with its congeners. " You can spin, stretch, stretch, climb, sneak up on other cats, and more. They [les roues] do not interfere at all with your movements "He explained Jillian.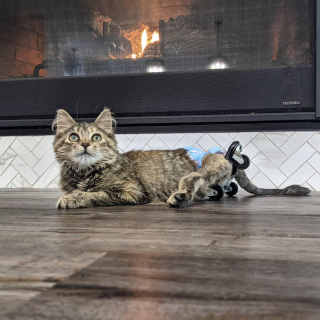 © FosterBabyCats
Even when the accessory is removed, the cat is extremely active. " Every day is a new adventure, and I'm just here to help her live her life to the fullest.he entrusted his guardian angel, she is my first paraplegic cat and could really count on many vets who guided me to take care of her. It was around her 9th month that I realized that I was quite capable of keeping her satisfied and happy. »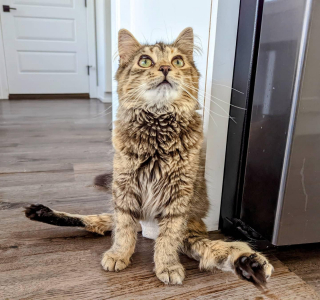 © FosterBabyCats
Merida he won the obstacle course without a doubt, and his new mother gave him a second chance at life. " It pushed me to learn how to take care of a paralyzed kitten and help it thrivehe concluded Jillian, I am so happy that she feels safe and so proud of how far she has come. »
READ ALSO: While trying to get his owner's attention, this cat accidentally sends mysterious messages to his co-workers!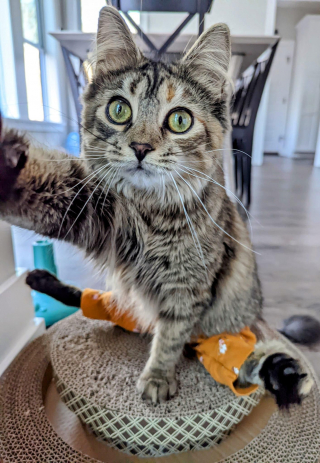 © FosterBabyCats