It's 6 pm in the Place du Panthéon this Thursday, April 14, and tourists and students from Paris are there. Like the fights. While the Sorbonne, right in front, has been occupied since the day before by students denouncing the result of the first round of the presidential election, there are several hundred people at the forefront gathered at the call of the organizations of Parisian universities . They claim enrollment in universities of foreign students who fled the war in Ukraine. Leo, a member of the Poing Levé Paris 8, complains to the microphone:
"The French state is in the process of organizing a racist classification of refugee students arriving from Ukraine. »
At the Pantheon on April 14, Leo, an activist for Raised Fist Paris 8, denounced a "racist triage" organized by the state among refugee students in Ukraine in front of Osama. /
Credits: Quentin Girardon
The French circular excluding
On March 4, the European Union decided to grant immediate international protection to all people fleeing the war in Ukraine, so that they could stay in Europe, work there, or continue their studies there. Except that in a circular on March 22, the French government decided to exclude from protection "those third-country nationals who can return to their country of origin in safe and lasting conditions." A provision that mainly affects foreign students, mostly from the Maghreb and West Africa. Aladdin, Algerian student, enraged:
"Ukrainians are entitled to 400 euros a month and can stay for six months. They only gave us a month and then we have to leave, go back to our country and start again. »
At the University of Paris 8, there are about 200 interested students. Algerians, Malians, Cameroonians or Congolese. They all fled the bombing. "The Ukrainian soldiers did not let us get on the trains because we were black. So we took a taxi, "recalls Ousmane, a student from Mali. They walked for several hours to reach the border with Poland. There, as Ukrainian nationals had priority, they had to wait days, standing in long queues, before entering Poland. Then choose France. "I already speak Arabic, English, French, Russian and Ukrainian. I still can't learn German or Spanish. If I came to France it's because I speak French insists Osama. Today they only ask for one thing: to continue their studies at a French university.
Here is the route to four of these students meeting in the courtyard of the Pantheon.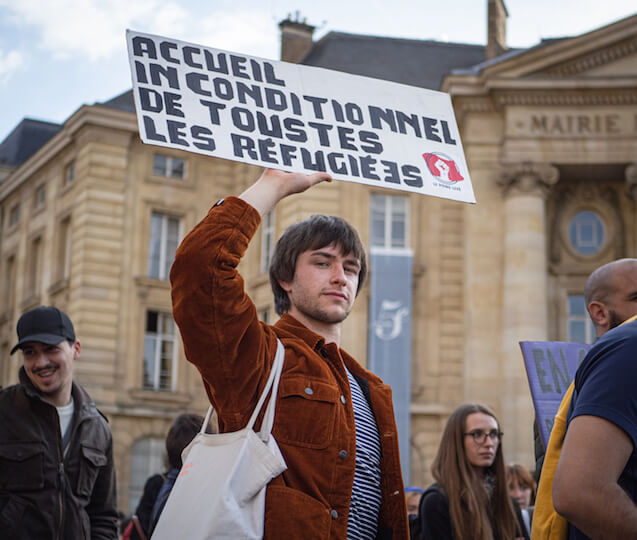 While the European Union had decided otherwise, the French government decided to exclude from its protection "third-country nationals who can return to their country of origin in safe and sustainable conditions", in a circular on 22 March. /
Credits: Quentin Girardon
Ousmane, 26, is a computer science student from Mali
"Everything changed all of a sudden. We lost everything, we have to start all over again," said Ousmane. stay in the territory until next April 24ththen you should exit:
"Imagine the course we took and we are still rejected here. »
Ousmane's journey began in Mali. A graduate in digital marketing, he can't find a job or an internship. He then chose Ukraine "because they grant visas easily." His family pays 4,500 euros and he lands in Kharkiv, very close to the Russian border. Before starting their course, all foreign students must first go through preparatory classes to learn Ukrainian. "In the early months, the adaptation was tough, I thought I would never get it." Get his training, start his specialty in computer science but on the night of February 24 the first Russian tanks crossed the border. "At three in the morning we woke up. Boom boom boom, every minute was relentless. »
Osama, 25, Algerian biology student
To finance his doctorate in Ukraine, Osama sold his car. It landed in November 2021. Not in Kyiv, like the vast majority of Algerian students, but in Kryvyi Rih, in the south of the country. "President Zelensky's city," the twenty-something says proudly. "The first three days after the invasion, the Ukrainians told us it would not last but we found ourselves surrounded by the Russian army, we had no choice, we had to leave." Despite the destroyed bridges and Ukrainian soldiers trying to recruit them to fight, Osama and his friends finally reach the Polish border. "There were two lines: one for Ukrainians, a priority, and the other for foreigners. We waited two days and two nights in line, eating and sleeping on the floor, "he explains. Osama then traveled through Poland, Germany, and Belgium before settling in France. "The motto of France is freedom, equality, fraternity. I want to see it, I want equality with the Ukrainians because we went through the same thing. »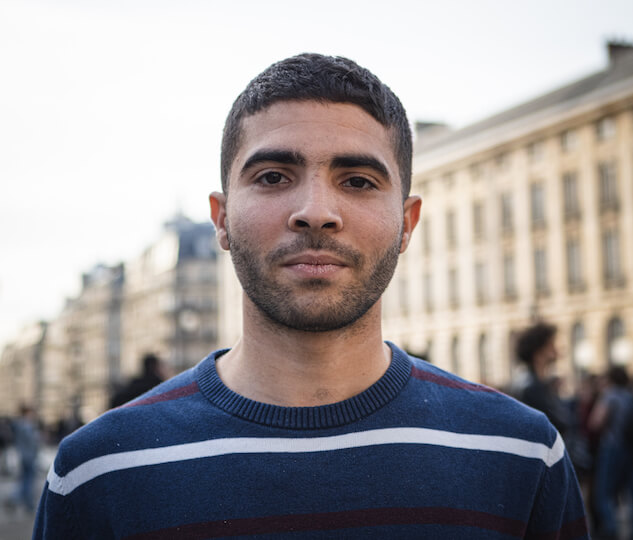 To finance his doctorate in Ukraine, Osama sold his car. He traveled through Poland, Germany, and Belgium before settling in France. /
Credits: Quentin Girardon
Samra, 27, Algerian student of applied microbiology
"In Algeria, there are only one or two places to do a PhD in my field, applied microbiology ". That is why Samra, wearing a pink veil on her head, left eastern Algeria for Kyiv in June 2021. "It was the first time she had been bombed, she was so scared. It's not my country, but I felt bad for the Ukrainians, "he said. Samra recounts the same journey that many students crossed at the Place du Panthéon that day. The long hours of walking from Lviv to the border, Poland, Germany and then France. "When I arrived, I went to register at Paris 8, but I was refused. Now, maybe I'll try Marseille. »
If Samra cites the city of Marseille, it is because he saw information that the University of Aix-Marseille would welcome all refugee students. In fact, the university contacted by StreetPress registered 30 students who had already made their application, to mark their disagreement with the circular. At the moment it does not intend to open its doors to other students. Samra is ready "to change course or to redo a master's degree if necessary. "For the time being, I can stay in France until May 3." If I had come from Algeria, I would have understood that I had been deported, I would have accepted it. But I came from Ukraine, with all the other refugees. It is an injustice. "
Aladin, 28, Algerian microelectronics student
Aladdin pulls out his cell phone and shows videos of the first battles between the Russian and Ukrainian armies, filmed from his bedroom window. Then another from a building with broken windows:
"It's my building, it was bombed. After he left, he even collapsed. »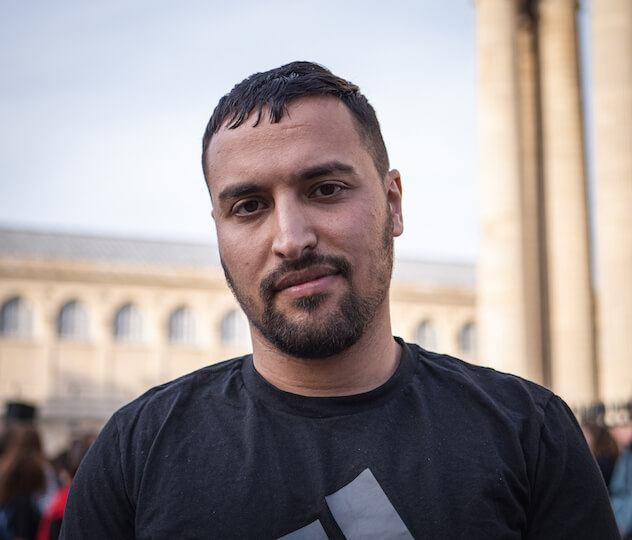 It took Aladdin two weeks before he could leave Ukraine. He only asks to be able to finish his studies in France. Instead, you are likely to receive an OQTF in a few days. /
Credits: Quentin Girardon
Unlike other students who arrived in Poland in a few days, it took two weeks before he was able to leave Ukraine. "I saw dead people, I saw Russian tanks, people crying in front of their destroyed house." Under the famous inscription: "To the great men the grateful homeland", engraved on the facade of the monument, Aladdin is one of the only foreign students concerned with fighting his fear of expulsion by grabbing the microphone and addressing the crowd . We only ask for one thing: to be able to finish your studies. That's all. We are not here for walking and sightseeing. His situation is even more urgent. In a few days, you will probably get one OQTF, an obligation to leave French territory. He concludes:
"We may not have green eyes, we may not be as white as the Ukrainians, but we may run away from it. We are all human beings. »
Text and video by Thomas Porlon, video and editing by Thibault Lauras, photos by Quentin Girardon.