2 years ago (Updated 2 years ago)
Mac applications
Julian Russo

3
Although today it is far from the most used internet browser on macOS, Internet Explorer made an impressive and very important entry before the 2000s. Jimmy Grewal who is a former manager of Microsoft told the story of the arrival from the browser to the Mac universe
An arrival on Mac in 1996
Internet Explorer became Microsoft Edge is not the latest browser. In fact, it has a great experience, in Windows, but also in macOS!
Jimmy Grewal was one of the key developers of the development from the Microsoft web browser. He joined the company 1999 integrate the team responsible for the design ofInternet Explorer 5 in Mac OS version.
If you're an old Mac user, one of the most loyal, you'll probably remember that Internet Explorer debuted 1996 to be compatible later 1998 with Mac OS 8.
In a blog post, Jimmy Grewal explains that this project was not only important in the eyes of Microsoft, it was also important in the eyes of Apple, with a Steve Jobs. very attentive to the slightest evolution of the work of developers.
For Microsoft, Internet Explorer 5 demonstrated its "commitment" to its lucrative Office for Mac clients, gave them an edge in browser wars, and was destined to take some wind in the antitrust case. DOJ.
Apple needed to bundle IE with all Macs, and obviously they wanted it to be amazing. They were desperate for developers to commit to their new Rhapsody operating system (Mac OS X) and demonstrate that their Carbon APIs were mature enough for complex Mac applications to be ported "easily."
Jimmy Grewal insisted that the first major browser on a platform that displayed properly standards-compliant HTML was not Safari … But Internet Explorer !
He says: "This rendering engine for Mac was new and completely independent of the Windows version".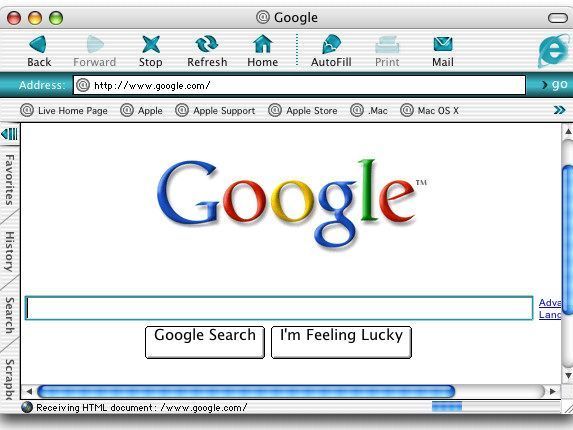 An interface that made Steve Jobs freak out
When the co-founder of Apple saw the Internet Explorer 5 interface he entered a black rage. Not because he doesn't like it, but because he doesn't like it similarity with the future interface Aqua for Mac it was flagrant.
This "new look" suspiciously resembled Apple's future Aqua interface for Mac OS X. However, it was developed with the utmost secrecy from Microsoft. When we saw Internet Explorer 5 for Mac with the "new look" of Apple in the summer of 1999, Jobs was not satisfied.
However, it was impossible to accuse Microsoft of copying the Aqua interface. since no one knew it outside of Apple that the company was developing a new graphical interface for Mac OS X.
Steve Jobs quickly realized he was one coincidence and not a malicious act aimed at copying the work of their teams.
How Jobs knew his anger it was not justifiedreflected his annoyance at one of the features of Internet Explorer 5. This was called "Media toolbarAs its name suggests, it was a bar that provided shortcuts to the user, who could even customize it to manage it according to their personal preferences.
For Steve Jobs, the media toolbar was a provocation Fast time. So he made a fuss about Microsoft delete.
Introducing Internet Explorer 5
During the MacWorld in 2000it was time to introduce Internet Explorer 5 which was advertised as revolutionary for Mac OS users at the time. For Microsoft developers, it was the result of a long work that lasted several years. Of course, it was up to Microsoft to do that presentation of his own work. But Steve Jobs stop immediately to the company, demanding to want to make the presentation himself.
Microsoft did not like this approach, but the company did it was not so conflicted with the co-founder of Apple, because he knew in advance who would have had the last word …
What Microsoft had agreed with Steve Jobs was to address several points important in Internet Explorer 5.
Steve had listened carefully to what the developers had told him, but of course, according to Jimmy Grewald, he didn't address it. none of its points in front of the audience who had made the trip to MacWorld.
This whole story will be etched forever in the memory of this former Microsoft manager!
Source 1 and Source 2