By Philippe Guerrier | the | Work space
Virtuality 2022 show: In an interview, the CEO of Manzalab talks about the vision of the corporate metavers or how companies are investing in these immersive spaces with collaborative and HR initiatives.
Specialist in immersive environments (virtual training, serious gaming, etc.), Manzalab has been exploring innovative ways to develop the collaborative dimension on behalf of companies for 10 years by exploiting virtual reality or augmented reality.
With its equipment located between Paris, Aix-en-Provence and Singapore, the technology company has left its mark on the corporate metavers offering dedicated technology (Teemew) and the first customer cases such as the virtual campus of the digital services company Sopra Steria which was presented at the recent Virtuality Fair organized from 17 to 18 March 2022 in Paris.
Clément Merville, CEO and co-founder of Manzalab, clarifies the vision and pragmatic approach.
Why are virtual reality players studying the potential of metaverses?
At the origin of the metavers
• It is necessary to return to the genesis of the word metavers, shortened from meta ("beyond" in Greek) and universe, or metavers in English. The word was coined in 1992 by American science fiction author Neil Stephenson in his novel The Virtual Samurai.
• A vision we find with Mark Zuckerberg who changed the name of his Facebook group to Meta in November 2021 and bought Oculus in 2014 after a virtual reality specialist known for his VR headsets.
• We also find the approach with Ready Player One, a science fiction novel written in 2011 by Ernest Cline that was a huge hit with Steven Spielberg's 2018 film adaptation and inspired Palmer Lucky, founder of 'Oculus.
The creation of Manzalab dates back to 2010 with my partners Vincent Berlioz and Emmanuel Le Gouguec. We are in the video game industry with the firm intention of developing the virtual reality experience on behalf of companies. For 7 years we have been developing serious games adapted to the world of training and exploring the concept of virtual world -today metavers-.
As it stands, there is no difference between the metavers and the virtual world of Second Life that emerged in the early 2000's. The goal is to create persistent virtual universes through communication through personalized avatars. But the ultimate promise with metavers is breaking boundaries and fostering interoperability between virtual worlds.
At Manzalab, we have another metaverse-oriented corporate approach:
Virtual reality does not necessarily mean entertainment. It also affects businesses.
the use of virtual reality headsets is not essential in our view. We have been moving in this direction in Manzalab for 10 years and now we know its limits.
The web browser-based approach goes beyond that glass ceiling. With our technology Teemew ("We are" upside down) made available to companies, we want the metaverses to be as accessible as possible on all screens.
Our architecture, which is based on the WebGL software layer available in the Google Chrome browser, for example, is designed to support unlimited access.
In 2022, we will launch it on smartphones and tablets.
At the end of 2022, we will offer it to Microsoft Teams.
What are the issues around corporate metavers?
The Covid-19 crisis served as a period of change, although the approach to virtual reality is elitist, that is, rather aimed at the CAC 40 groups with the use of virtual headphones.
We realized that we needed to democratize access to virtual reality through our Teemew platform. In 2020, we declined it for computers (PC and Mac) and flat screens from an executable [logiciel]. We now offer a 100% web version through the browser.
Advantage of our corporate metavers solution: No data center resource required. Everything is operated locally on the user's terminal.
We are the only professional metavers solution that can accommodate so many people. Yesterday [16/03/2022]we organized a virtual event with Dassault Systèmes that brought together 1,400 people and observed peaks with over 400 people connected simultaneously.
What is at stake is the future of work. We are already in the midst of the rise of telework with the backdrop of the Covid-19 crisis. We will not go back on the organization of work. But companies will have to reorganize in depth.
Microsoft has summed up this transformation with the "hybrid work paradox."
The notion of "hybrid" serves to emphasize the distinction between professional activity in the office and at home.
"Paradox" serves to show that, despite the desire for flexibility in the organization of work, the link of belonging to the company and contact with teams and colleagues is also important.
It is important to take advantage of the feeling of affection during this period of movement. 45% of respondents believe they have "less reason to want to stay in the current business," according to a recent Microsoft study.
In this approach to corporate metavers, the notion of virtual presence it is important. The goal is to recreate a sense of real presence in a virtual environment and rediscover the pleasure and feeling of reuniting with peers.
Studied in cognitive sciences, virtual presence is based on three levers:
the feeling of self-presence,
the feeling of space presence,
the feeling of virtual co-presence (virtual interactions with others).
To what extent could corporate metavers be used to strengthen the links between employees and companies?
Above all, it would strengthen the link that has been broken between employees and the organization of hybrid work. Concrete and relevant uses are beginning to emerge with Teemew and corporate metavers:
Sopra Steria Academy (ESN's internal training organization) has set up a consolidated virtual campus that has welcomed 1,400 new employees during a remote onboarding seminar. A two-day course has been set up with workshops, networking and informal meetings on the virtual platform.
a large French bank Manzalab has been working with our Teemew technology for a year.
the group SNCF, EDF or Capgemini. Development stages range from "POC +" or more advanced projects.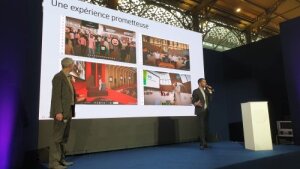 At the end of the year, we will be able to integrate Teemew directly into Microsoft Teams. We are currently setting up experiments in this direction internally.
Then, we can leave it to the client companies to set up their own metaverses and turn traditional video conferencing into immersive universes with custom 3D avatars with realistic profiles of participants, who can integrate their photos into 2D.
How do you market corporate metavers modules?
Our main partners are usually the innovation departments. We offer a white label platform that adapts to your needs in a few days.
It's like a plate on which we put LEGO bricks to make fun constructions. From another angle, it looks like the Minecraft video game building virtual environments.
With Teemew, we charge a subscription for the ability to receive guests – per month or per day in the event of approaching an event – to the corporate metavers.
For example, we work with Kwark Education, which has launched its METAKWARK metavers for companies, federations, institutions, CFAs, schools and training organizations.
Once integrated into Teams, the model will revolve around the number of registered users to align with that of Microsoft's collaborative platform.