Efficient and scalable, Bouygues Telecom Entreprises 'fiber offerings are enough to satisfy SMEs and TPEs looking for a secure and high performance internet connection. So they can take advantage of a full offering, which combines connection speed, performance, automatic backup and cybersecurity. What do you need to remember about the solutions offered by Bouygues Telecom Entreprises? Here is a summary of what you need to know.
Bouygues Telecom Entreprises has developed Internet offers specifically for small and medium-sized businesses. The basic offer, called Shared business fiber East available at 59 € VAT not included / month. It includes a shared fiber optic connection (known as FTTH), which reaches 1 Gbps downlink speed and 500 Mbps uplink speed.
If necessary, technical support based in France offers extensive support. Subscription includes an 8-hour intervention guarantee. In addition, in the event of a breakdown, technical assistance is available 6 days a week, from 8 am to 10 pm, even on Saturdays.
In summary, the shared business fiber offering includes:
A fiber optic connection that can reach a speed of 1 Gbps for download, and 500 Mbps for upload;
Expert technical support based in France;
Access to technical support 6 days a week with a guaranteed response time of 8 hours.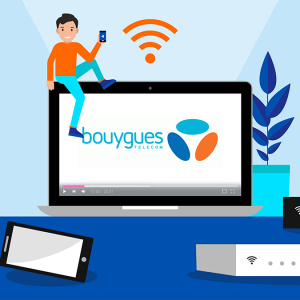 Read on tooAll Internet Box offers from Bouygues Telecom Entreprises
Read more
Secure Enterprise Fiber FTTH: Cybersecurity, Reliability, and Performance
But performance alone is no longer enough for innovative SMEs: they must always be connected to their business and require that their internet access is always available, no matter what. That is why Bouygues Telecom Entreprises has created a unique fiber offer in the market: FTTH Secure Business Fiber. It is available at the price of € 99 VAT not included / month. This offer is:
More reliable : If your wired Internet connection is interrupted, Secure Enterprise Fiber includes an automatic and instant 4G backup, based on a business router (not a 4G key). It is an essential option to ensure business continuity.
Safer : The other innovation of this fiber offering lies in its layer of professional-grade cybersecurity. Bouygues Telecom Entreprises includes in this offer a package of specific services, with a fortnet firewalla web usage filtering, but also automatic report generation. Ideal to ensure true computer security. In addition, the support is more substantial, with monitoring of Internet access 24 hours a day, 7 days a week.
More efficient : More complete, this offer includes a FTTH fiber optic connection with a speed of up to 1 Gbps at downlink speed but also a symmetrical and guaranteed 20 Mbps bandwidth. This protects sensitive streams, such as IP telephony.
In summary, the FTTH Secure Enterprise Fiber offering has the following options:
Fiber optic with a upload speed of 1 Gbps for download;
20 Mbps symmetrical and guaranteed in ascending speed;
Several additional cybersecurity services;
An automatic 4G backup;
Monitoring of Internet access 24 hours a day.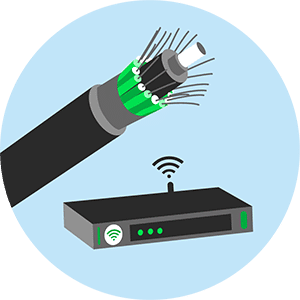 Read on tooThe best fiber optic internet boxes for individuals
Read more
The Secure Dedicated Enterprise Fiber (FTTO) offer: a tailor-made offer for professionals
Finally, for greater needs in speed and stability of connection, Bouygues Telecom Entreprises fulfills with the offer the expectations of the most demanding organizations. Secure dedicated business fiber. The subscription is available at 370 € without VAT / month. Includes fiber 100% dedicated FTTO.
In terms of internet connection, this offer offers a very high speed 100% dedicated and symmetrical, from 10 Mbps to 1 Gbps guaranteed depending on the area. Thanks for choosing 4G backupthe Secure Dedicated Fiber offering continuously provides a very high speed connection, even if the fiber optic connection is cut off.
This solution also includes cybersecurity services, the same as the FTTH Secure Enterprise Fiber offering. This is one firewallfrom web services filtering and automatic report generation.
In addition, Bouygues Telecom Entreprises adds personalized support to this offer. Continuous monitoring of Internet access is guaranteed 24 hours a day. Subscribers are entitled to a guarantee of 4 hour intervention time. Finally, technical support can be contacted by phone from Monday to Saturday from 8 am to 10 pm.
In conclusion, Bouygues Telecom Enterprises Secure Dedicated Business Fiber includes:
100% dedicated FTTO fiber: from 10 Mbps to 1 Gbps of symmetrical and guaranteed speeds depending on the area;
100% dedicated FTTO fiber;
An automatic and instant 4G backup;
Cybersecurity options;
A multi-service business router;
Extensive and personalized support.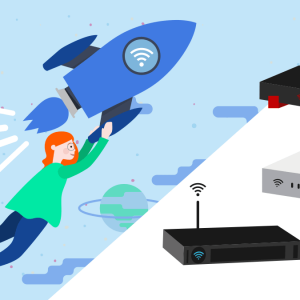 Read on tooHow To Increase Your Internet Box Speed
Read more